Quick Contacts

Rely on Kingston tenancy cleaners to pass the inventory check!

Kingston tenancy cleaners remind that leaving your tenement isn't only packing your things and saying "Goodbye" to your irritating landlord. Kingston tenancy cleaners are aware that the rules are different and they make you clean the mess you have done during the entire stay. Tenancy cleaning services Kingston know that it sounds a bit unfair to sanitise for the future tenants. Tenancy cleaning company Kingston is here to reform this and sterilise the property instead of you! End of tenancy cleaning in Kingston is waiting for you to book!
End of tenancy cleaning company in Kingston is a professional UK-based company, which guarantees you a smooth and fair inventory check. Meet the new convenient service, which is specially tailored for tenants and landlords – tenancy cleaning service in Kingston is available anytime! Kingston end of tenancy cleaning service composes of several common and standard household chores, which are usually gathered in the lease contract. Though, the tenancy cleaning company in Kingston is always opened for individual list of tasks or personal requirements for a higher hygiene restoration.
Just call on for a quick and free of charge reservation at tenancy cleaning company in Kingston! You can also use the online form or reach Kingston tenancy cleaners through the e-mail.
In case of omission, of course, you are given a 48 hours guarantee by post tenancy cleaners Kingston. If needed post tenancy cleaners in Kingston will come again for a visitation, check and repeat the procedure absolutely free of charge.
End of tenancy cleaning in Kingston that is quality and cost-effective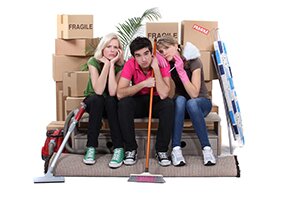 If you are pressed and stressed of the removal, please don't deny some help from tenancy cleaning services in Kingston! A quick sanitising job from Kingston tenancy cleaning company will make happy and pleased everyone – you, your landlord and the next tenants! Covering the entire area of the property, the expert Kingston tenancy cleaners are always focused on the freshness, airing, purity and germ elimination! Give post tenancy cleaners Kingston the specific requirements or book the complete pack of activities in end of tenancy cleaning package:
For the kitchen – full floor sanitising with mopping, damping, sweeping, vacuuming and hoovering (including refreshing the carpet); degreasing the kitchen appliances, deodorising, bad odour removal and stain removal; scrubbing and polishing the hard surfaces; wiping the microwave, disinfecting the fridge and sweeping the dust all over - performed by Kingston tenancy cleaners
For the bathroom – sterilising the toilet seat, washing the tub, cabinets, mirrors, door handles, light switches, descaling and sanitising the tiles, refreshing the sinks and taps, shower cleaning and deodorising - executed by tenancy cleaners Kingston
For all the other rooms – vacuuming, furniture refreshment, disinfecting the worktops, rubbing the windows from the inside, mopping the staircases, sanitising the showcases, disinfecting the mattresses, cobwebs removal, scrubbing and polishing - provided from Kingston end of tenancy cleaning services
Our vetted and experienced teams of tenancy cleaners in Kingston use only non-toxic detergents. The cleaning equipment of Kingston tenancy cleaning company is qualitative and super powerful.
Grab the phone, contact Nice and Clean Kingston on and book the final step of your removal – take a breath and let Kingston tenancy cleaners do it! The prices are fair and low!
End of Tenancy and Carpet Cleaning* Prices:
One bedroom flat with carpets from £175.00
Two bedroom flat with carpets from £200.00
Two bedroom house with carpets from £220.00
Three bedroom flat with carpets from £235.00
Three bedroom house with carpets from £310.00
Four bedroom house with carpets from £350.00
Five bedroom house with carpets from £380.00
End of Tenancy Cleaning Prices:
One bedroom flat from £130.00
Two bedroom flat from £155.00
Two bedroom house from £173.00
Three bedroom flat from £180.00
Three bedroom house from £230.00
Four bedroom house from £260.00
Five bedroom house from £280.00
* please note when you book End of Tenancy together with Hot Steam Carpet cleaning, you get 50% off the regular carpet cleaning price.
Our domestic cleaning provides perfect order and incredible hygiene!
End Of Tenancy cleaning services in your area :